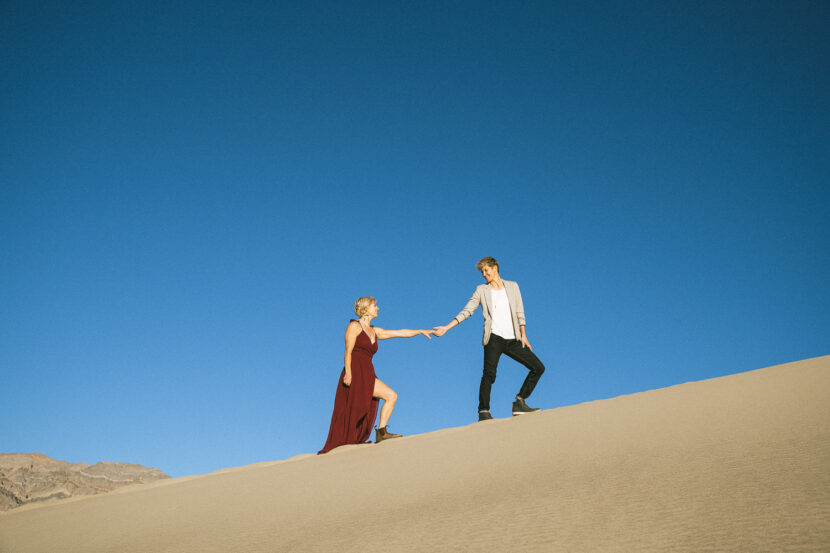 There are quite a few sand dunes in California, and what better place to elope? Dunes seem like a piece of magic, defying nature by their very existence. They often look like a mere child's sandbox dumped in the middle of nowhere, mysteriously not blown away or flattened by the wind. Yet the wind erases all signs of human impact, day after day, like a child's etch-a-sketch. I love the blank canvas, the curvilinear lines, the contrast of light and shadow, and the potential for dramatic compositions. Natalie and Erika agreed to model for me for this styled sand dunes elopement.
If you are planning a Death Valley sand dunes elopement, here are some things to consider:
Which sand dunes to choose from?
I took the photos in this blog at the Eureka Sand Dunes, which are some of the highest dunes in the lower 48 states. The Eureka dunes can be accessed from Lone Pine or Bishop, California.
My favorite dunes are the Mesquite Flat Sand Dunes within Death Valley National Park. Planning within the national park involves more logistics, but also allows for the biggest variety of scenery to explore. Depending on whether you want to have your wedding ceremony in the park, you will need a special permit.
While not in Death Valley, I also love the Kelso Sand Dunes in the Mohave Desert, easily accessed from Joshua Tree or LA.
Death Valley Seasons & Weather Concerns
Regardless of which sand dunes you choose, the desert is best in the winter months, December – February. I have always had great luck with weather, but you should prepare for possible unpredictable weather, especially wind. I don't consider wind to be a deal breaker, as it will add more drama to the photos, but we will always have a back up plan.
What to Wear & What to Bring for a Sand Dunes Elopement
Even in winter the dunes are warm until the sun fully dips behind the mountains. You may break a sweat even in January. I love sheer and flowing long dresses for aesthetic reasons as well as how comfortable and cool they are. I also suggest a pop of color! Red contrasts the dunes AND the sky beautifully as seen in this session. Blue or green could work well too. Tan or beige tends to blend in, but as you can see, one person wore beige here and it totally worked! I have an example on my blog of two people wearing white and the vibe feels totally different.
Definitely bring layers for when the sun dips (maybe a change of clothes like shown at the end of this post), plenty of water and snacks, and either good shoes or go barefoot!
Timeline & Driving Logistics
For a Death Valley sand dunes elopement, we will need a minimum of 8 hours. Even a simple adventure session would take 6 or more hours. Each location involves miles along washboarded dirt roads. You'll want to consider your car for this part.
The sand dunes themselves are a strenuous hike and it takes a couple hours minimum to walk to the various view points. (Imagine sinking into the sand with every step! It really is a work out!) I also recommend visiting the sand dunes on a weekday to avoid weekend crowds.
---
Getting married? Check out the rest of my work, and send me a note using my super easy contact form with any questions about planning a Death Valley sand dunes elopement!
Now to share some of my favorite photos from this session with Natalie & Erika.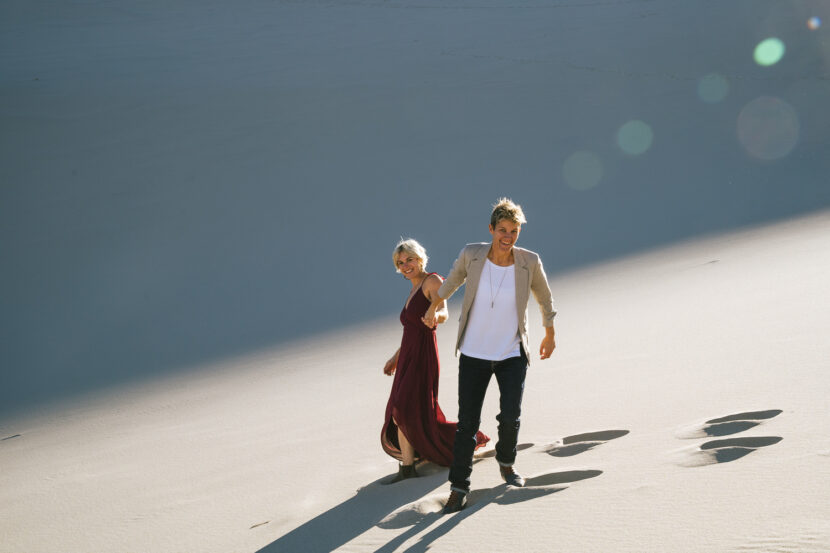 Natalie & Erika are locals to Bishop and have fallen in love with the beauty of the Eastern Sierra. They are avid climbers along with numerous other adventurous outdoor sports. Our sand dune adventure was a hybrid photo session — part engagement, part documentation of their elopement during covid. They are also planning a full wedding for summer 2022.
When people celebrate their love in a completely personalized way, I am so stoked for them!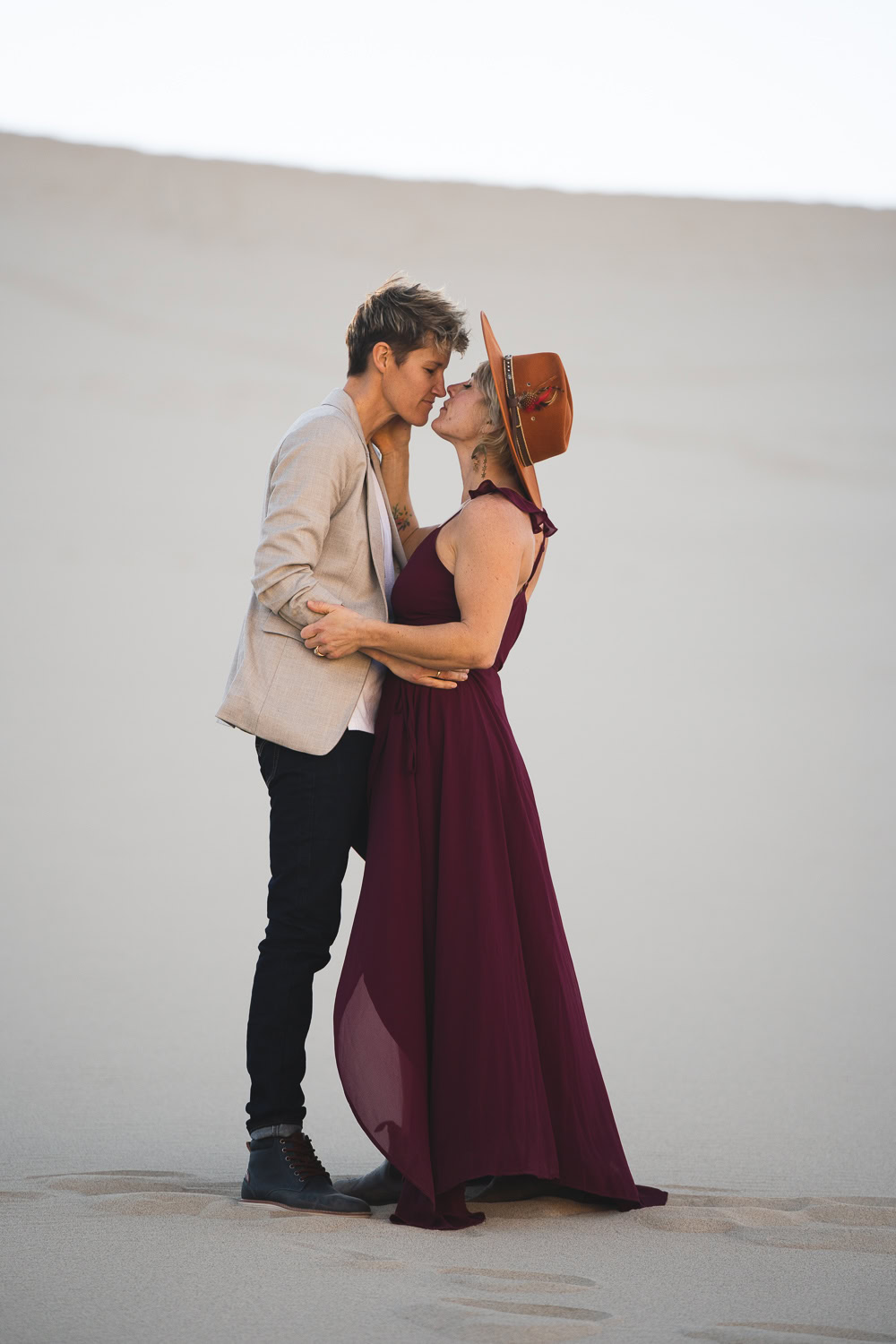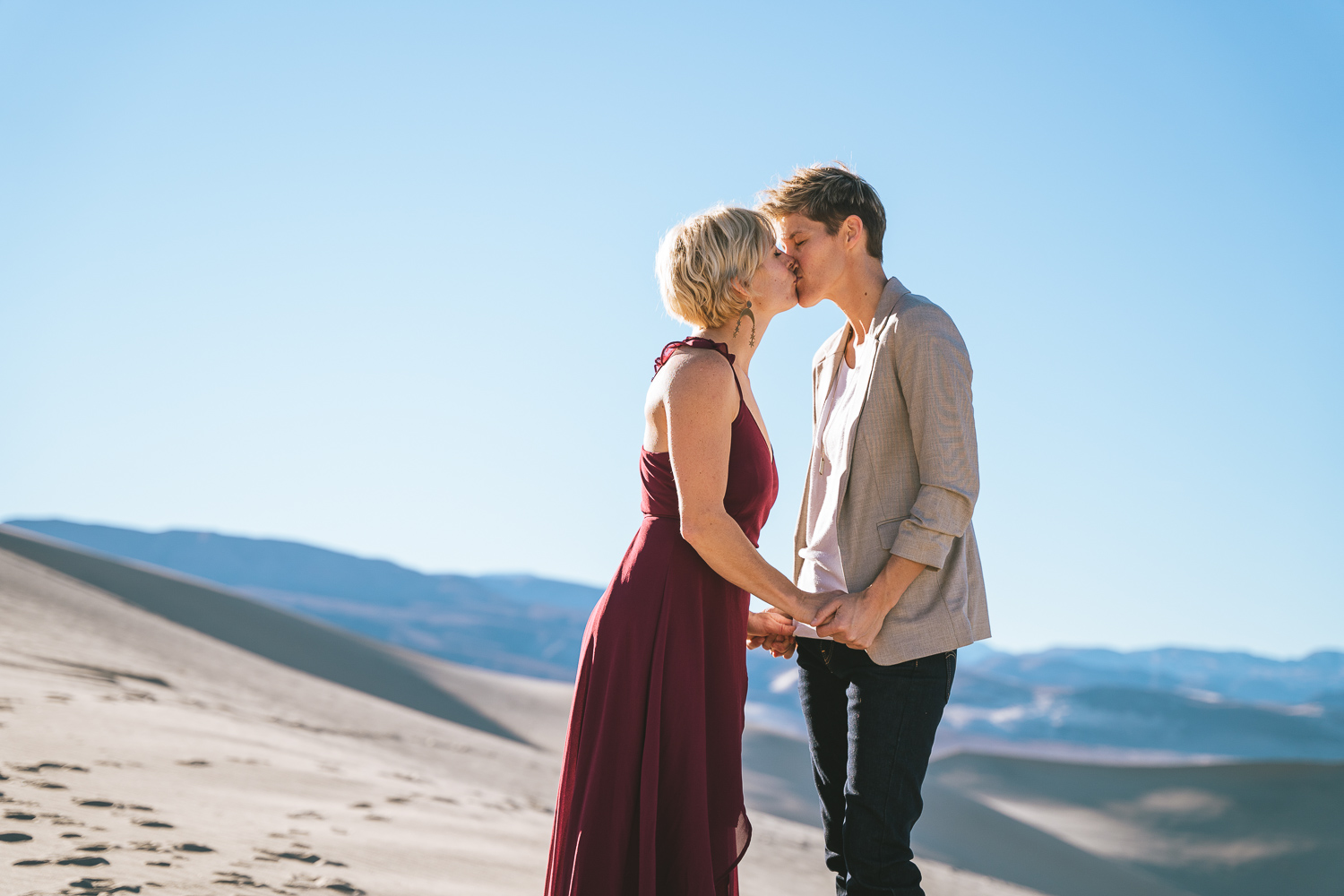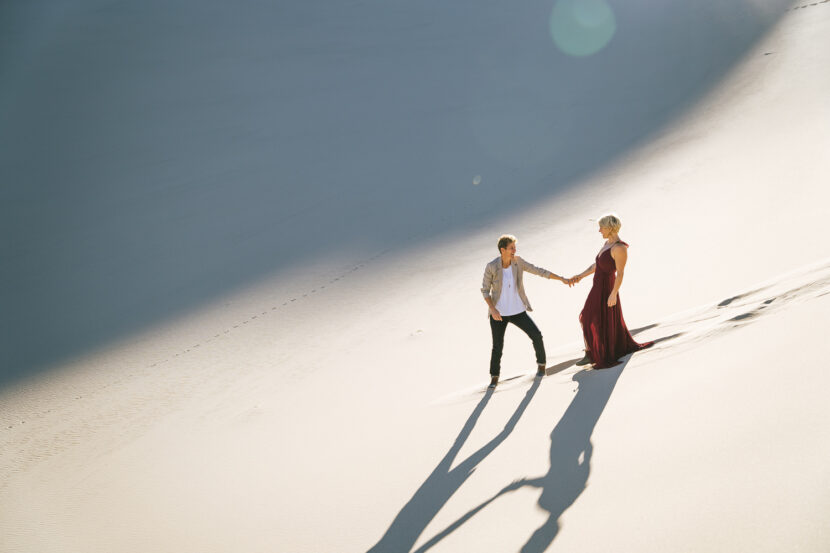 I also experience a sci fi vibe in the dunes, admittedly due to Frank Hebert's Dune series, imagining a monster worm emerging from the depths at any moment. Jokes aside, if you are equally stoked on sci fi, I'm always down to nerd out about favorite books and films. :)
Without getting too scientific (I know you're here for the photos!), it's fascinating that dunes emerge simply because of wind patterns. 1 grain of sand becomes 2, becomes 100, becomes billions. Somehow that same wind doesn't just blow all the grains away! Read more about the science and history of dunes on National Geographic. I found it especially fascinating that scientists are still perplexed by the phenomenon. As much as I want to know how things work, I love the mystery of not-knowing too.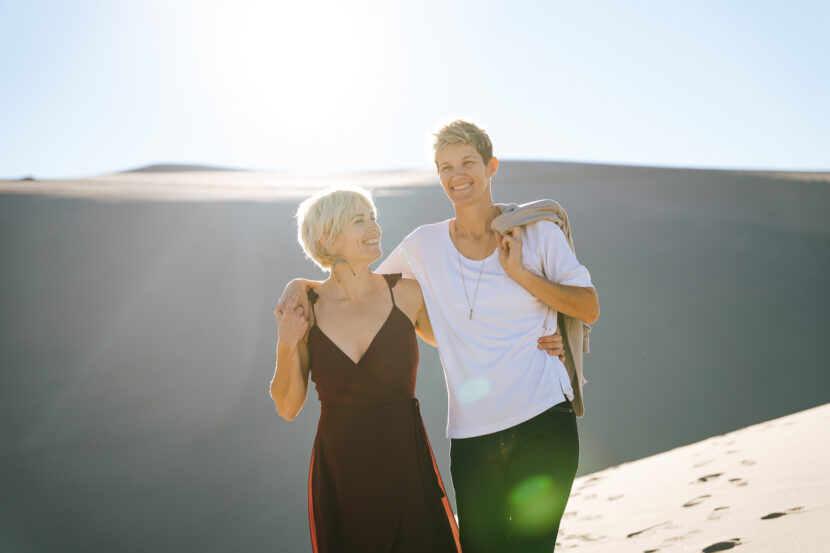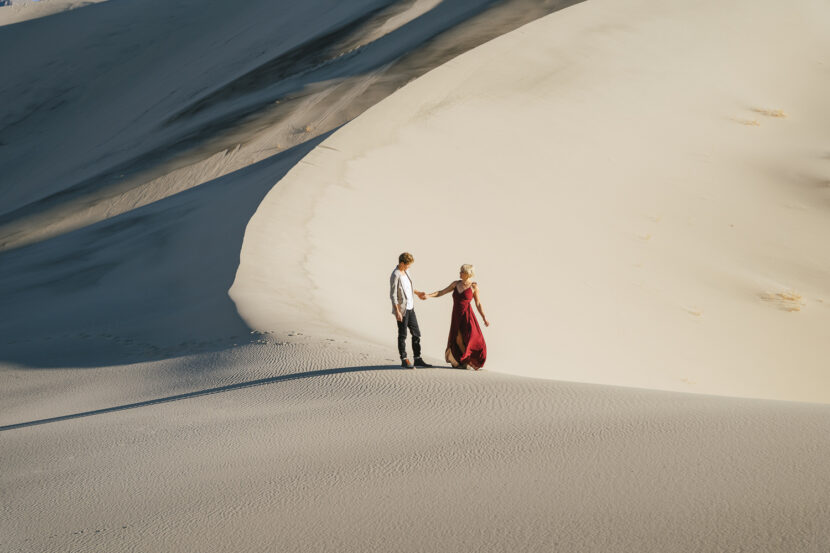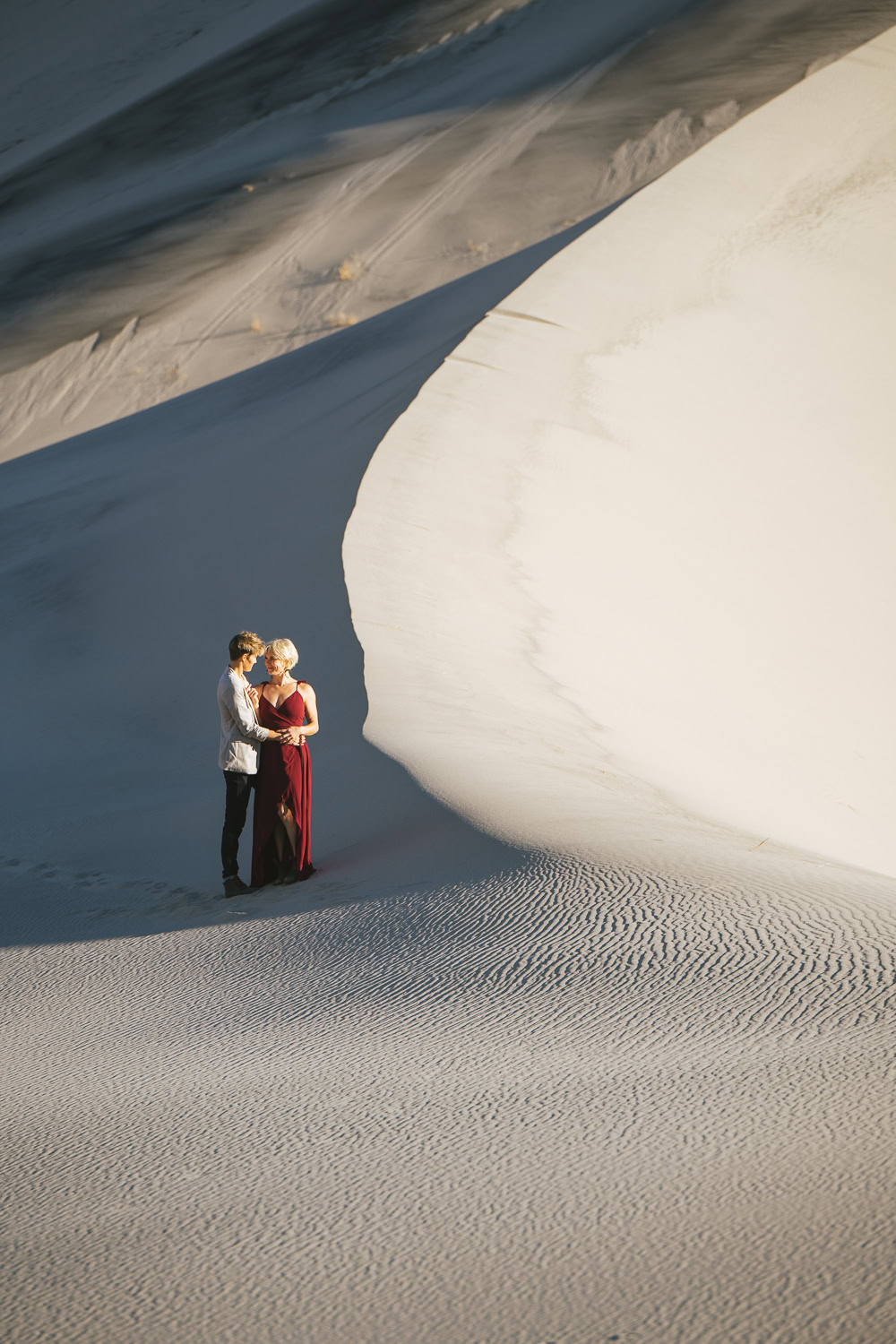 I'm obsessed with the dramatic light & shadow created by sand dunes. We spent 2 hours exploring the sand dunes to catch different kinds of light, and the leisure pace allowed for plenty of variety and candid captures. I've found that the shifting sand makes for a challenging hike, with a lot of time spent dumping sand out of shoes! Props to these two for doing it in their dressy outfits.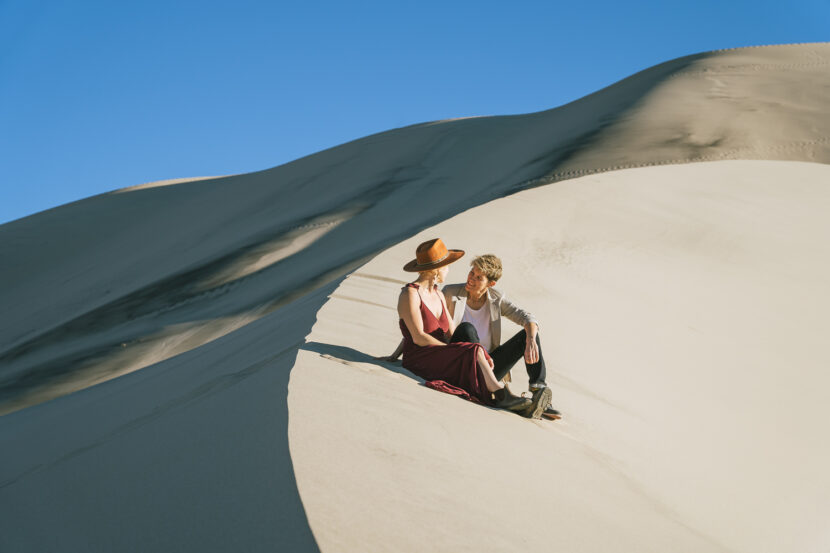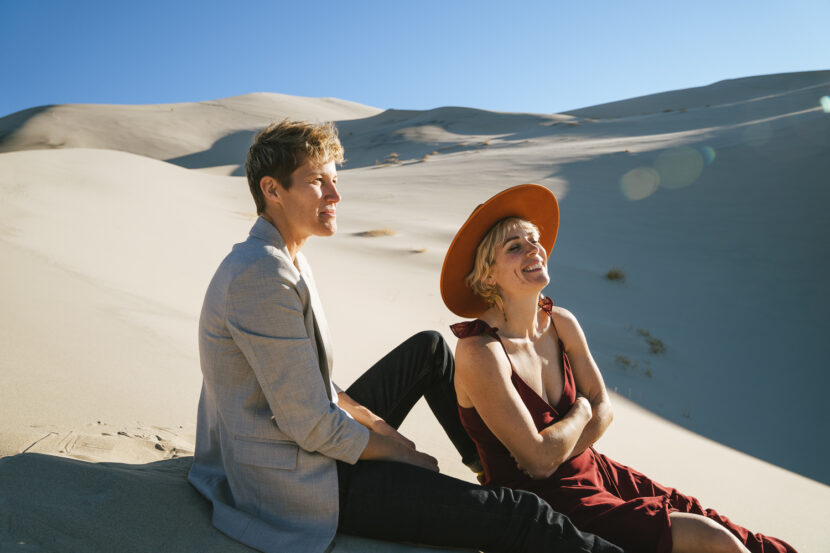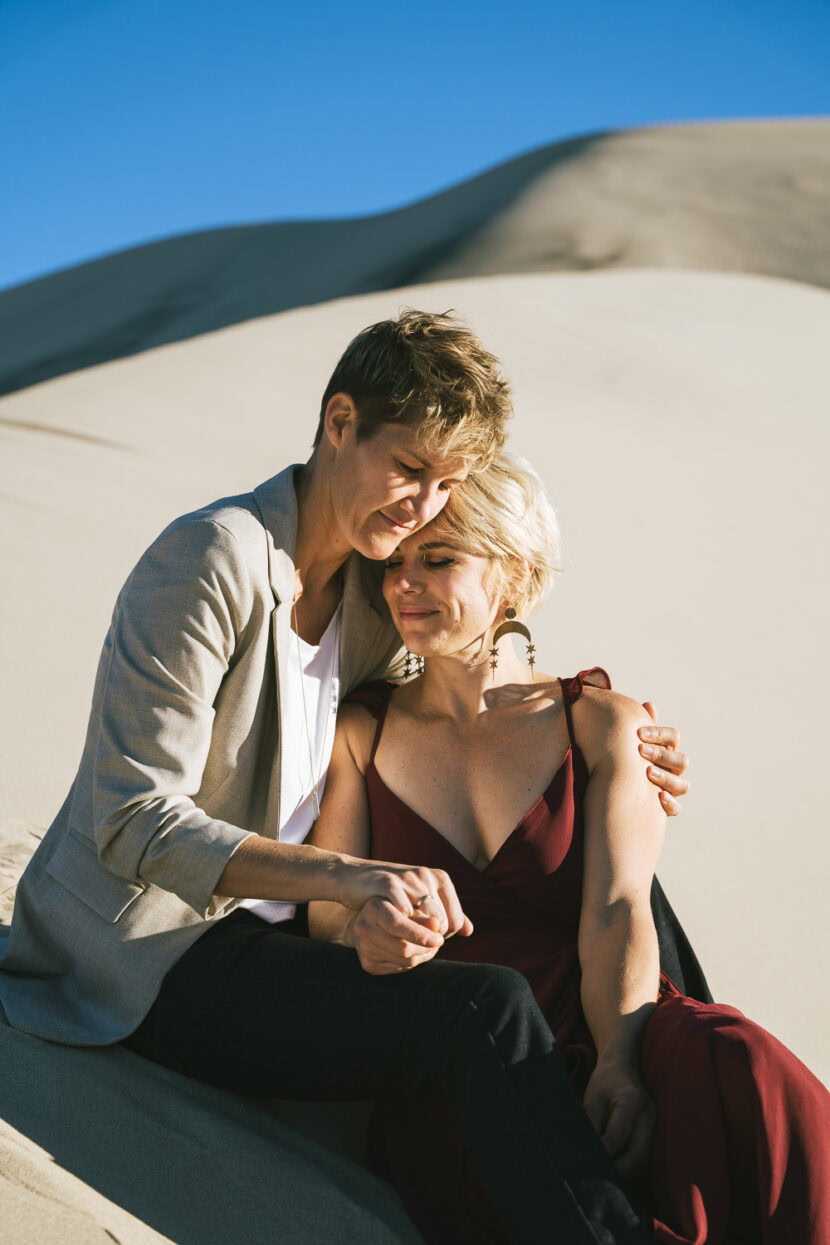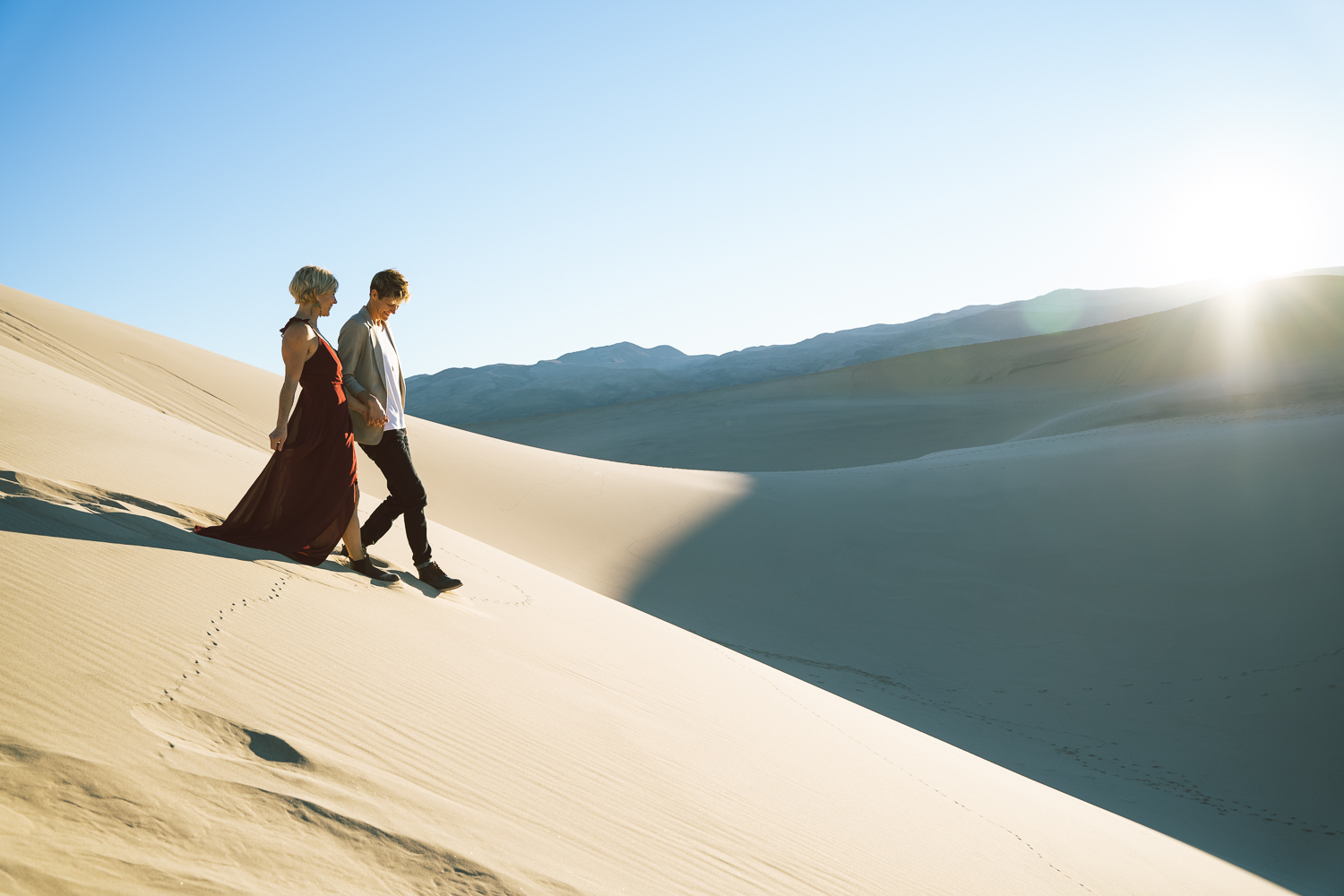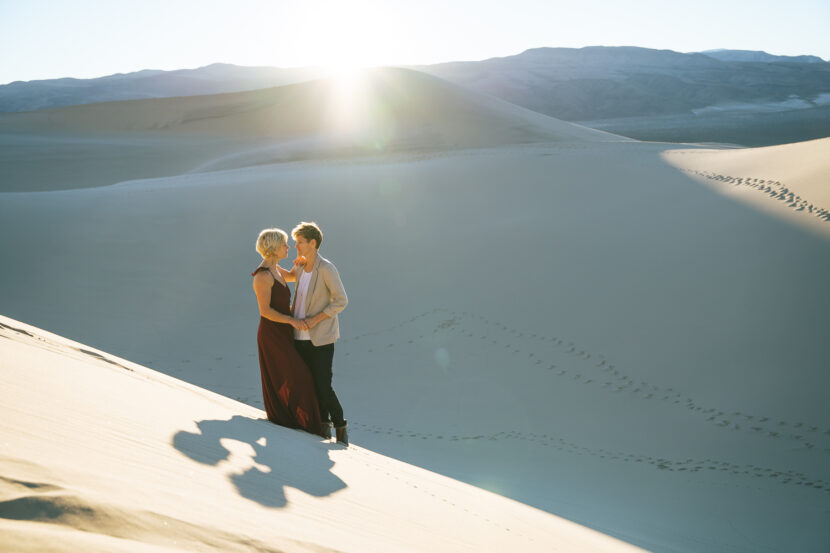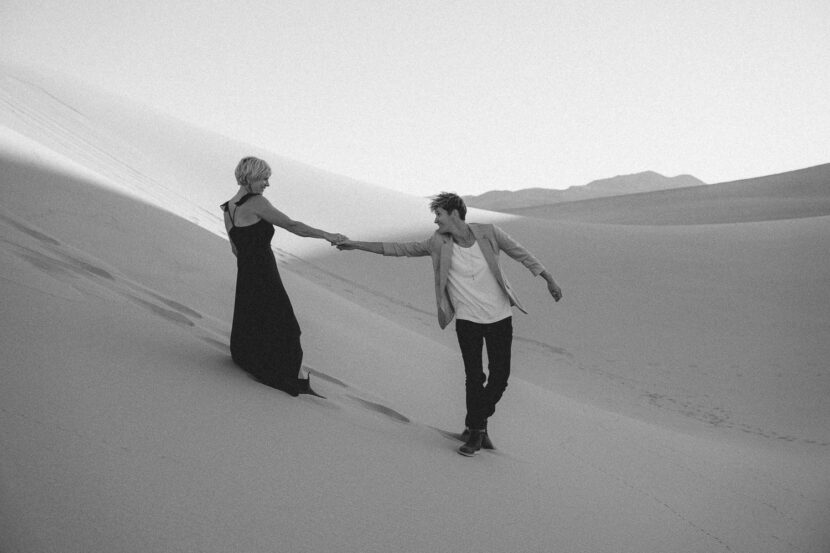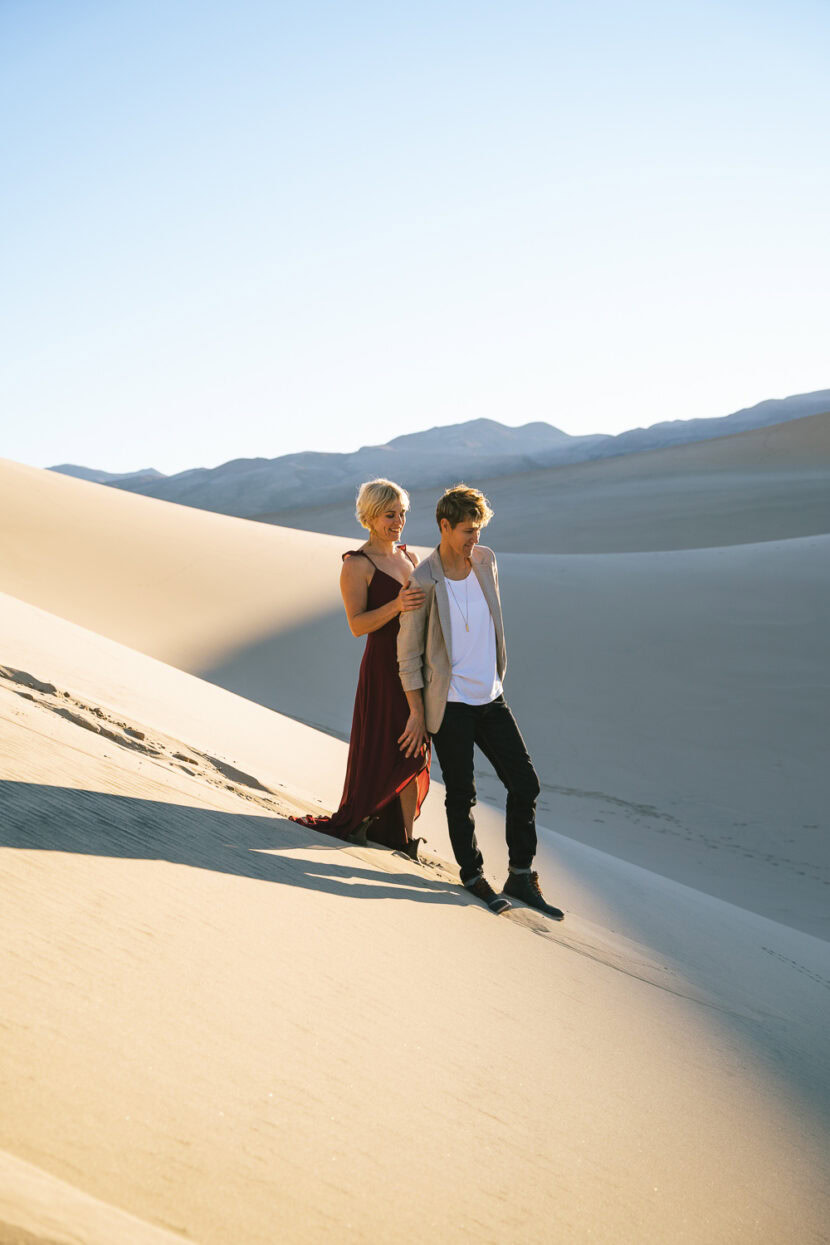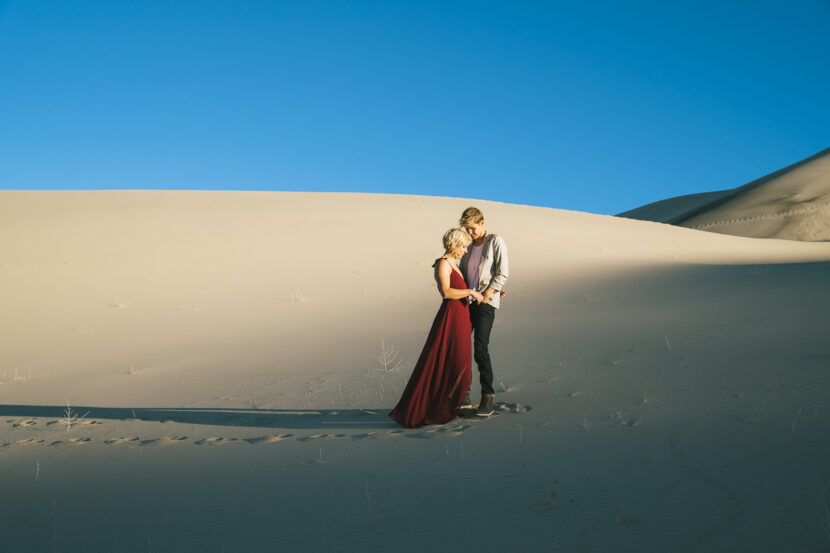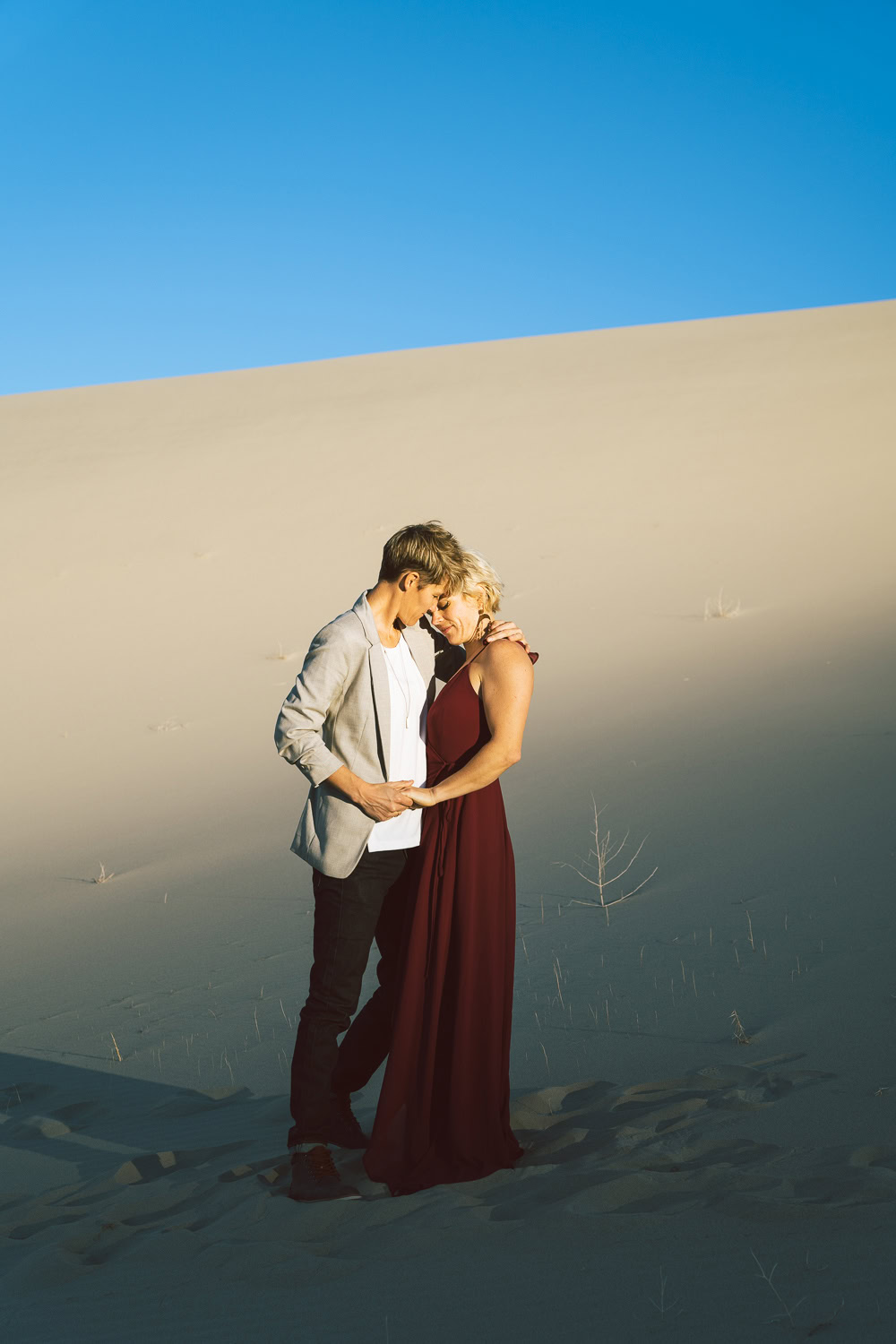 As the sun finally dipped behind the mountains, N & E changed into cozier warm clothes and we captured a few more of them cuddling in the dunes. I love how quickly the vibe changes with the soft, reflected light.
---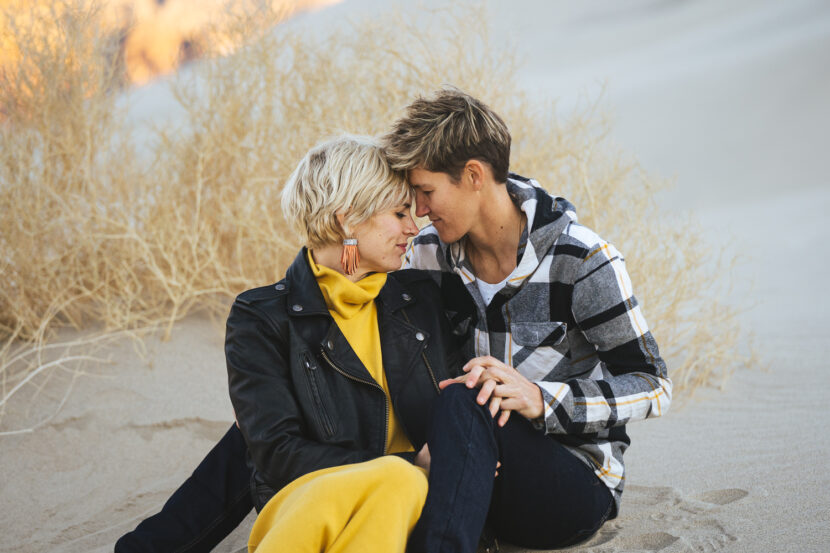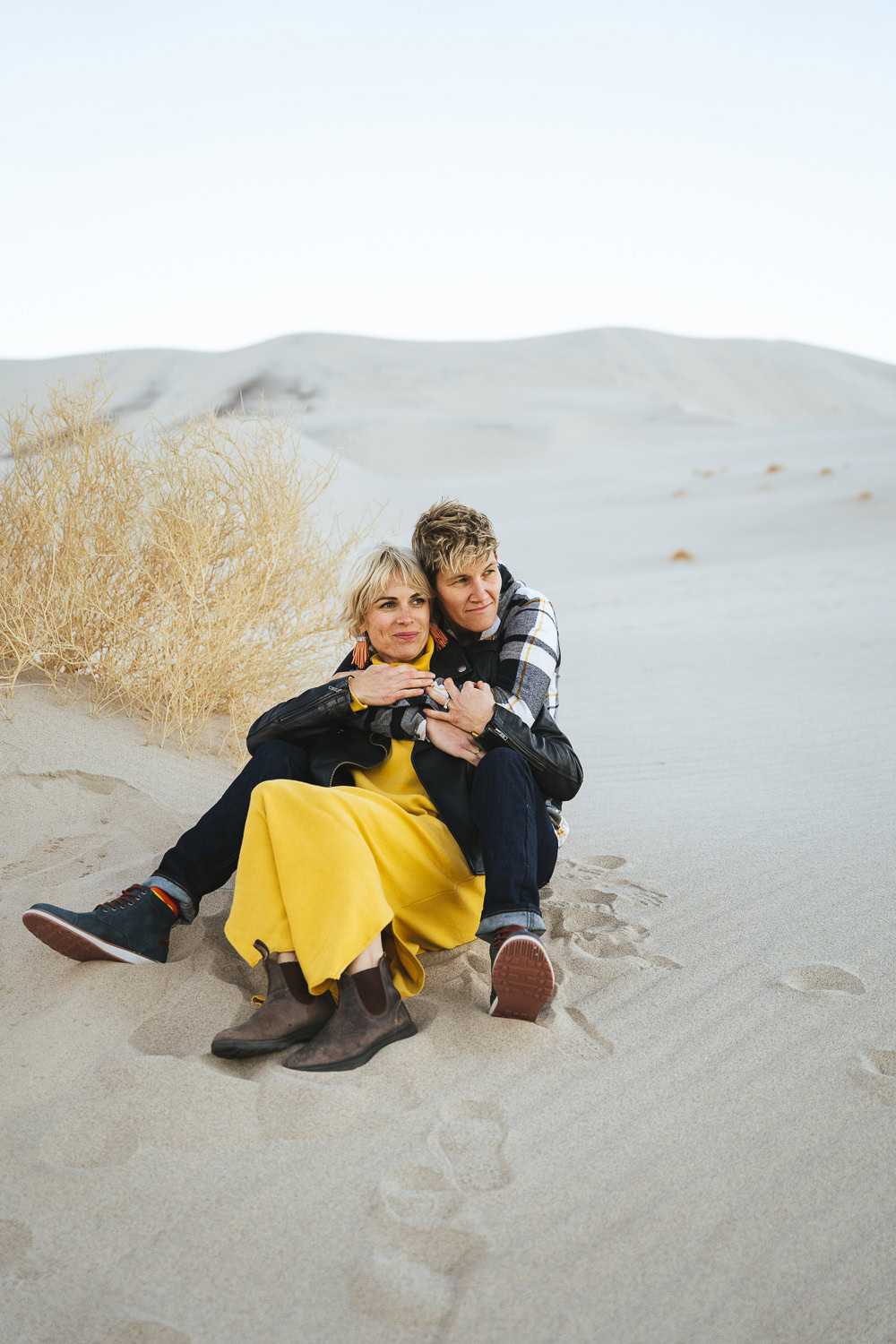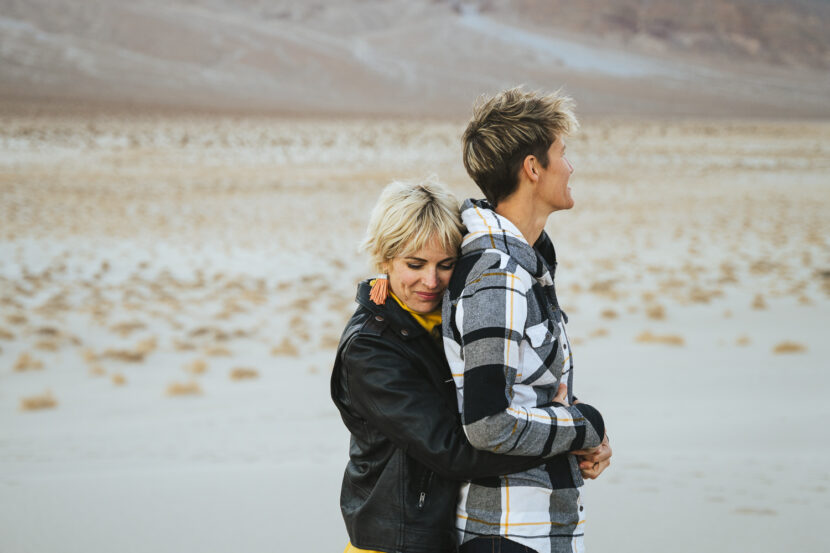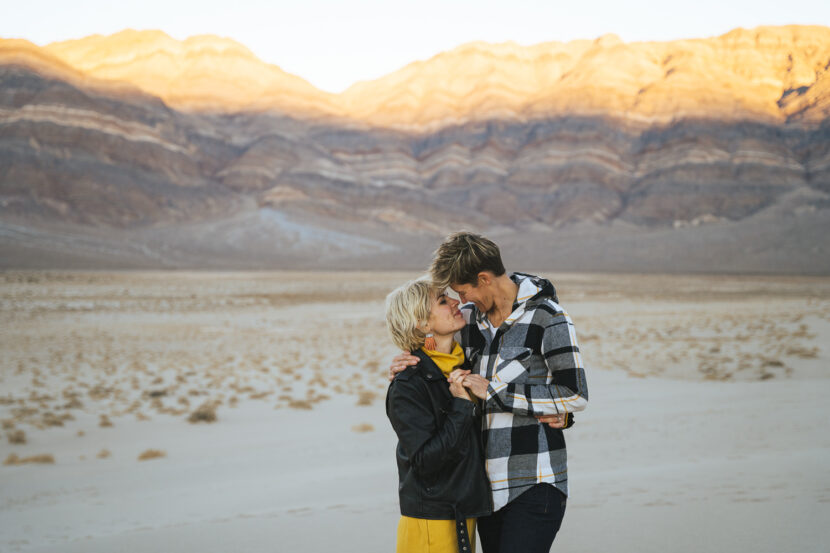 Looking for more?
Read more about me
Reach out by email
You can also see related blog posts below: