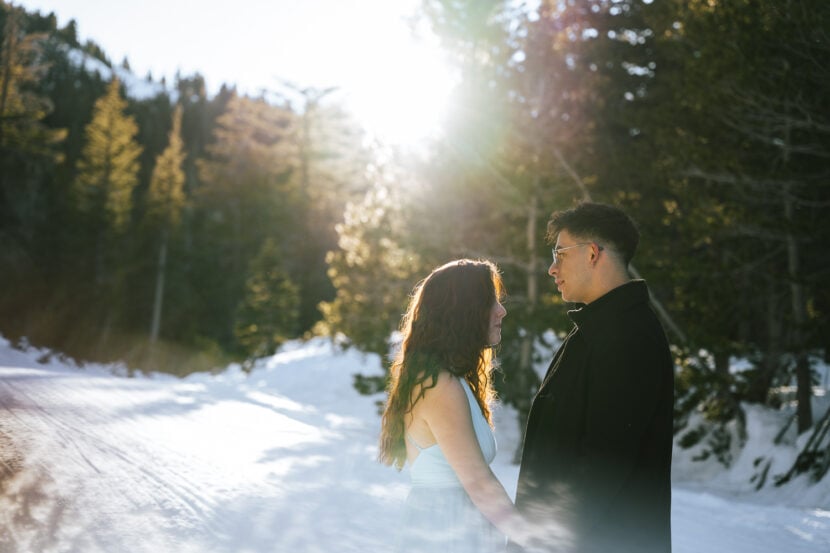 Hiking up Minaret Vista for couples photos is a perfect choice. Minaret Vista is easy to access, has good weather year round, and has one of the best views around. It is a great option whether you want to propose or plan an adventure session. The winter light and the snowy Minarets makes for such a lovely scene.
Kara (my sister) and Rylan were so kind as to model for me at this location! They were lovely to work with, as they have such a fun, loving connection. Most moments were filled with laughter.
Seasons & Weather at Minaret Vista
Minaret Vista engagement photos can be done year round. At 9,000 feet, it will be cool in the middle of summer, and as you can see from this session it can be warm enough even in the dead of winter. The biggest limiter will be certain stormy days. Heavy snow and high winds could make this spot difficult to hike on certain days.
If we schedule between June – October there is little to worry about except smoke late summer. During the winter, I've had great luck, but I like make a backup location plan in Bishop in case of extreme whether. For example, see these wedding portraits I took in Bishop.
The Hike up to Minaret Vista
The walk up is fairly short, clocking in around a mile each way. The hike allows for more variety of photos as you can see in this blog post, and I usually recommend it. If you don't like hiking in the snow, you can book a snowmobile tour with Mammoth Mountain. Nearby, you could also ride the gondola to the top of Mammoth Mountain.
What to Wear & Bring
While this winter session was warm enough for a sleeveless dress, you'll want to bring layers. For spring, summer, and fall sessions we could plan all sorts of activities including a picnic at the summit.
Kara and Rylan chose to get real dressed up! It's a great spot for that, as the hike is so easy and simple. Kara and Rylan were such great models for me this week. For a totally opposite vibe, see this other styled engagement session we did in the Eureka Sand Dunes.