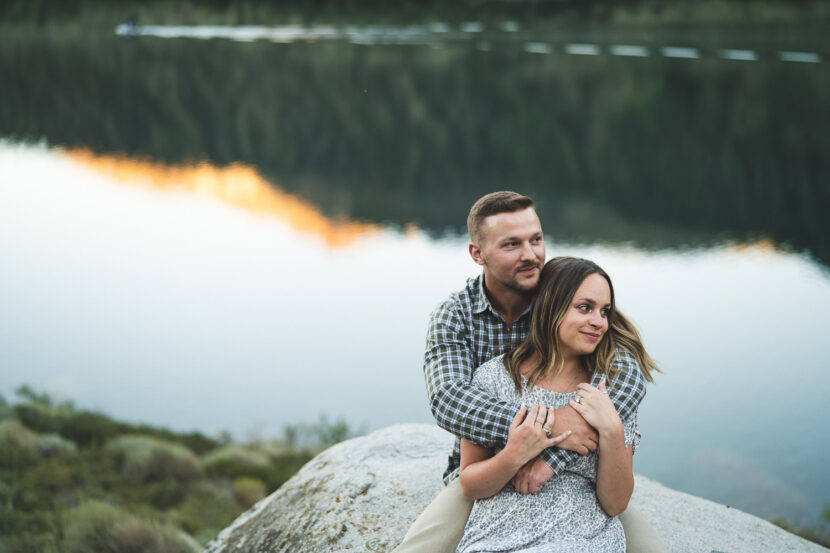 Convict Lake is one of the dreamiest views in the Eastern Sierra. It's no wonder about 25% of my clients choose this location for their photo session, and Convict Lake is the perfect spot for a surprise proposal.
What makes it so special?
The Variety of Backdrops
Most people gasp with surprise when they show up at Convict Lake– it's truly hard to imagine a place so incredibly gorgeous. Laurel Mountain sits behind the lake and has some of the only Metamorphic Rock in the eastern sierra. Something to consider is that many of the beautiful locations around here do not offer a perfect view of the mountains (block by hills, trees, etc.), But Convict Lake is perfect for the mountain view.
There is a 2 mile path around the lake that offers a variety of views including trees, sage brush, boulders, the lake itself, etc.
Easy to Access for a Convict Lake Surprise Proposal
While I always enjoy a true adventure, for surprise proposals it's better to keep things simple. At Convict Lake there is no fear of getting lost, or not finding each other. You can literally drive right to the lake so it's super chill and
Another easy-to-access proposal spot, if you ski, is the top of Mammoth Mountain.
Best Season and Time of Day to Visit Convict Lake
Sometimes Convict lake can be very busy. I've noticed weekends to be worse than week days, and weekend mornings the busiest of all. Every time I have planned a proposal here at the lake, there have been people fishing in the spot I want to use until the last second, and then it has worked out each time. Usually people seem to clear out around dusk which is perfect for us!
Also, I prefer this location from late spring through Fall. In the winter, the light feels cold/blue/dark. However, if you can hit it just right while it's frozen, you could always ice skate during your session! (This is an at-your-own-risk activity, and do NOT do it if you aren't fully educated on the dangers).
Check out this Convict Lake Surprise Proposal with Winter Snow
Optional Activities for the Photo Session
If you book a 2 or 3 hour session, we can go to more than one location, or add fun activities for candid photos. Here's an example of a 2 hour photo session at Convict Lake, with paddle boarding and a puppy along for the ride.
Check out this session Paddle-boarding on Convict Lake
The Surprise Proposal at Convict Lake
Jake reached out several months in advance to plan this special day. We worked out a plan to make sure it all went off smoothly, and it was perfect!
---
Check out these other Eastern Sierra engagement Sessions:
---