Paddle-boarding on Convict Lake is about as dreamy as it gets. Bring your pup along for the ride and the adventure just gets better!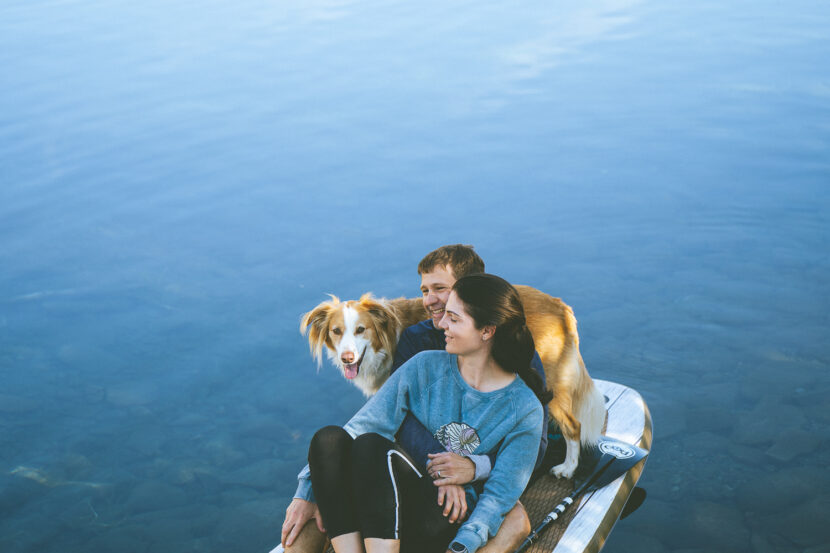 The View at Convict Lake is Exceptional
I have photographed SO MANY people at Convict Lake, and every time the best part is to see people gasp in excitement at the view. It's truly hard to imagine a place so incredibly gorgeous. Laurel Mountain sits behind the lake and has some of the only Metamorphic Rock in the eastern sierra. Many of the beautiful locations in the Eastern Sierra do not offer a perfect view of the mountains (blocked by hills, trees, etc.).
There is a 2 mile path around the lake that offers a variety of views including trees, sage brush, boulders, the lake itself, etc.
Other Local Lakes to capture Padddle-boarding Photos
Paddle-boarding photos at Convict Lake are not the only option. There are so many lakes to choose from. Each has a unique view, and I'm happy to share my experience at each one! You can also consider Silver Lake, June Lake, Lake Crowley, Mono Lake, South Lake, North Lake, Lake Sabrina, and many more!
Best Season and Time of Day to Visit Convict Lake
Sometimes Convict lake can be very busy. I've noticed weekends to be worse than week days, and weekend mornings the busiest of all. Usually people seem to clear out around dusk which is perfect for us!
I prefer this location from late spring through Fall. In the winter, the light feels cold/blue/dark. But it is accessible year round!
How much time for Paddle-boarding Photos at Convict Lake
I always schedule 1 full hour for paddle-boarding. If you want to walk around for some more Portrait-like photos, you'll need at least 2 hours for the session.
---
Take a look at this paddle boarding photo session on Lake Mary
---
Check out these other Eastern Sierra photo session locations:
---