If you have spent time in Mammoth Lakes, you know the kind of unmatched beauty this place holds. The Eastern Sierra is exactly what it sounds like– the east side of the Sierra Nevada mountain range, including the Owens Valley and the popular small cities of Bishop and Mammoth Lakes. From rugged mountain ranges to desert landscapes scattered with sage brush, from smooth sand dunes to textured granite boulders, and from luscious green forests to alpine lakes, choosing the best location for your elopement can be a challenge! Here are my best locations to elope near mammoth lakes.
These destinations are merely meant to inspire your imagination as you dream up the perfect day. There's a lot more to think about, from where to stay, what to wear, finding an officiant, etc. I can help with all of that.
Why is the Eastern Sierra perfect for an elopement?
The Owens Valley owes some of its grandeur to being the deepest valley in the United States. The floor sits at 4,000 feet, surrounded by the Sierra crest to the west, and the White Mountains to the east, with peaks ranging from 12,000 to 14,000 feet (including Mt Whitney!) Read more about the Owens Valley here.
The benefit is that this makes the alpine and outdoor activities accessible. The options for rock climbing, trail running, backpacking, day hiking, and paddle-boarding, are endless.
The vast space makes it easy to find locations that feel quiet and remote without much effort.⁠ While you could plan your elopement in Yosemite (and I'm definitely up for that!), these are some more off the beaten path locations to consider whether you are looking to get engaged, married, or have an adventure. The most important thing to keep in mind when choosing a location is the time of year. As with any place, weather will determine your experience in these magical places, and I'm here to help you figure out where to elope in the eastern sierra.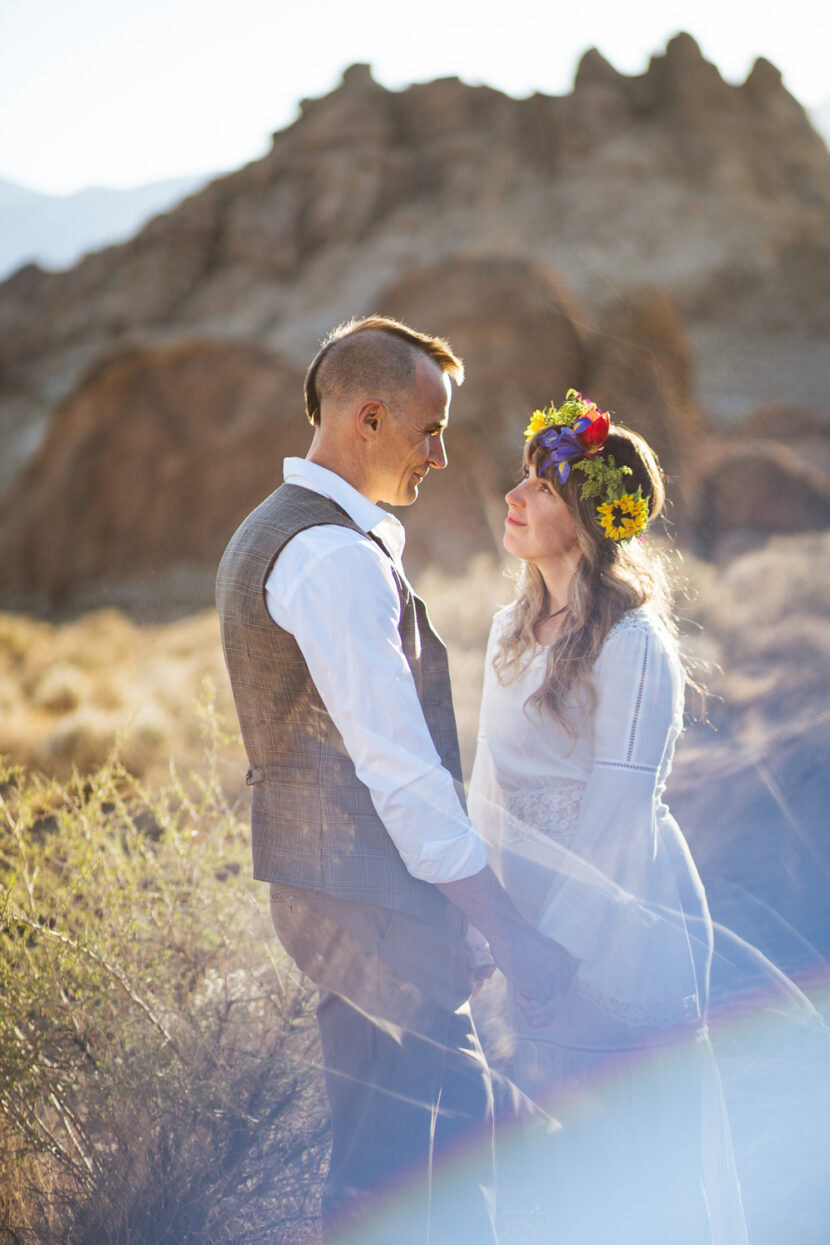 ---
1. The Alabama Hills
Best Season: Fall, winter, and spring. Very hot during the summer, but doable with an alpine (early morning) start!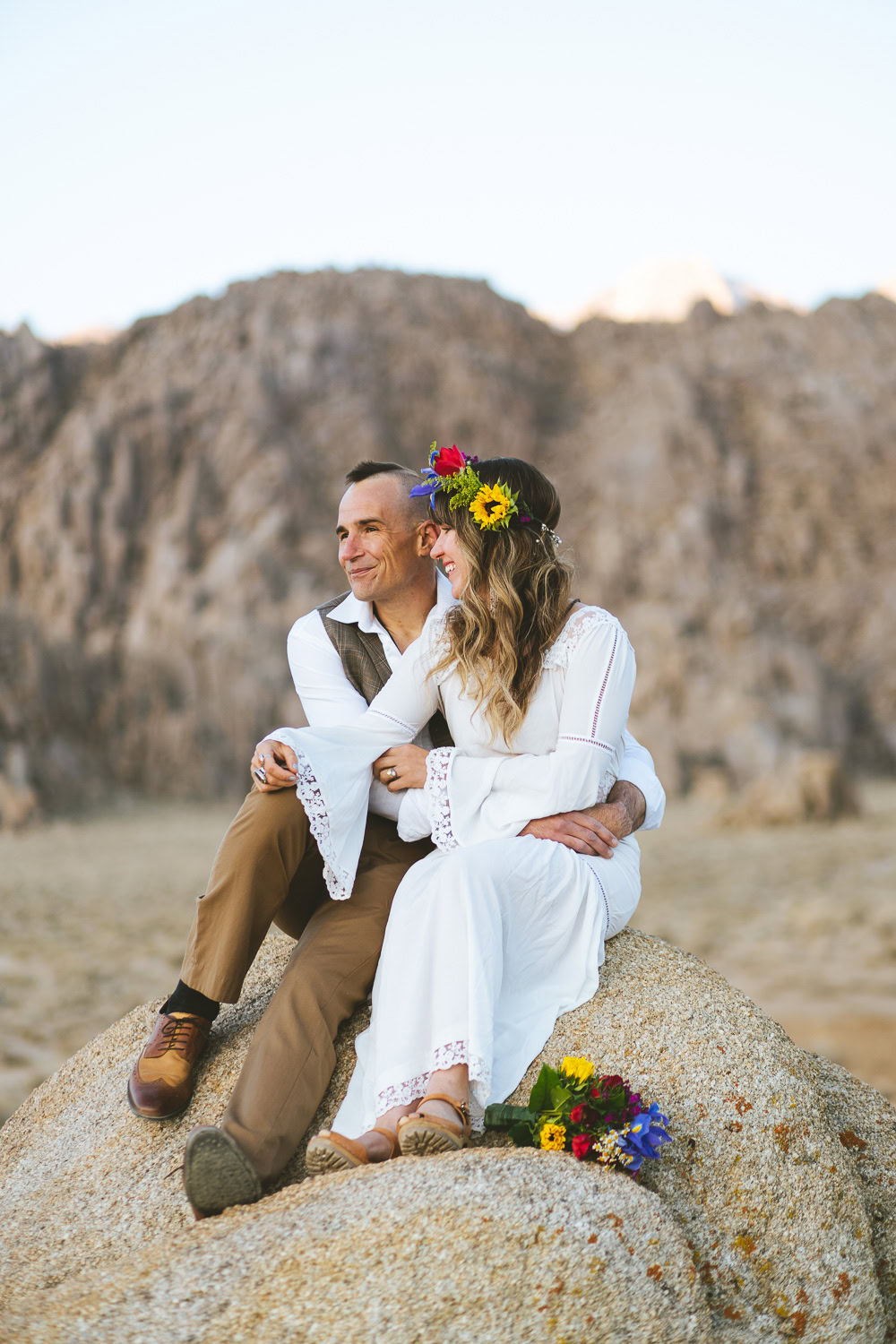 How do you like the idea of getting married within view of Mt. Whitney, the tallest mountain in the lower 48 states? the Alabama Hills are iconic for many reasons, and hundreds of movies have been filmed here.
You can easily stay in Lone Pine, or camp near the hills themselves. There's lots of history to read about and information on camping and hiking via the BLM site. There are some important Leave No Trace principles that you will want to be aware of. Read more here.
---
2. Hot Creek Geological Site
Best Season: Hot Creek beautiful any time of year! It looks different depending on the season in terms of greenery and snow, etc.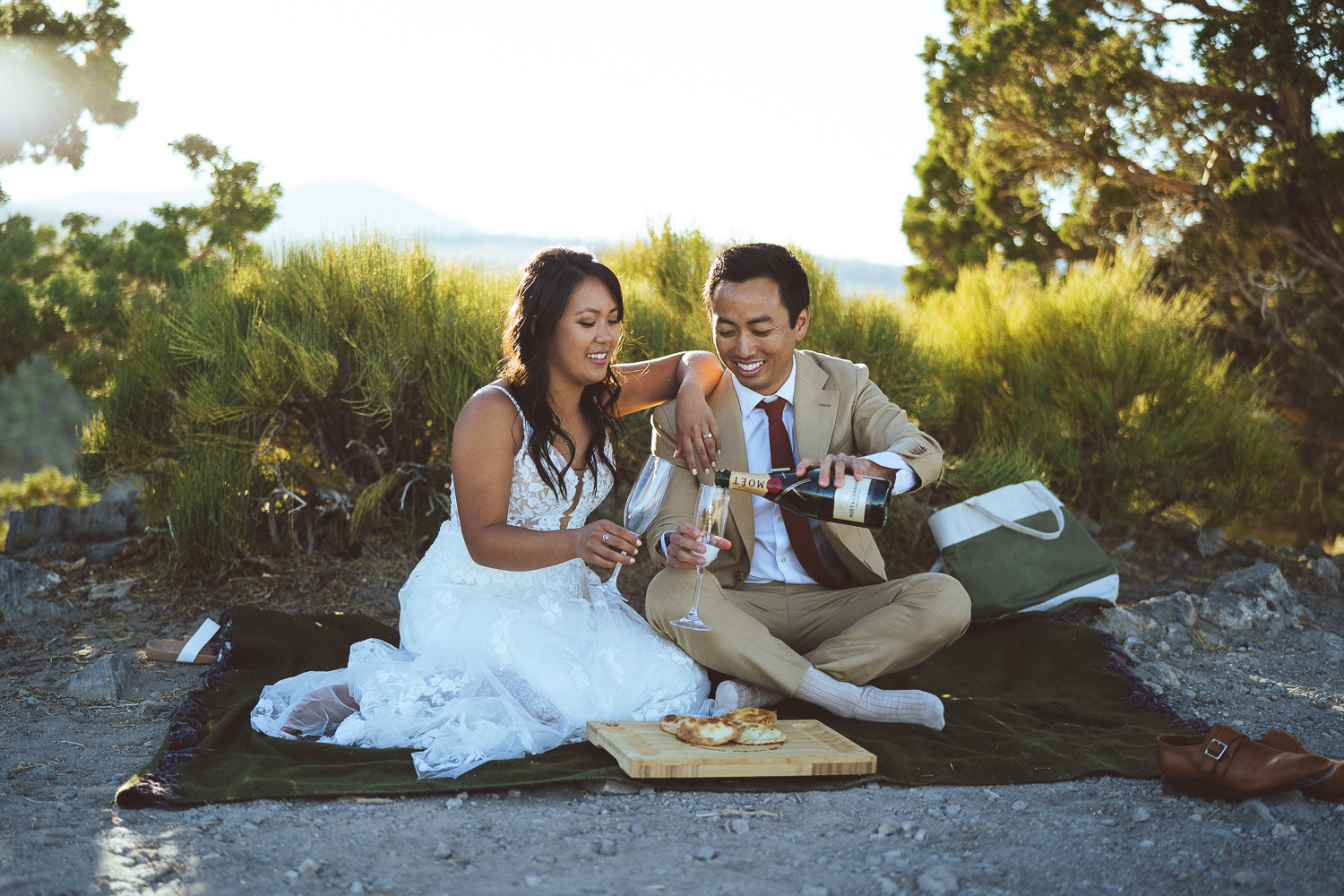 Hot Creek Geological site is one of the most accessible, stunning vistas to be found. It makes for a great sunset location at the end of the day. Weirdly, for now, considering how beautiful it is, I've never seen it busy.
There is some incredible geological history to read about on this location too. It is a mere 10 minutes from Convict lake, and there are a lot of fun meadow-like spots to explore nearby as well!
VIEW THE FULL 3 HOUR ELOPEMENT HERE
---
3. Death Valley National Park and Sand Dune Landscapes
Best Season: Cooler temps are a must. Even in the dead of winter I've broek I suggest visiting from November – March. You could encounter high winds, otherwise it is usually sunny and beautiful.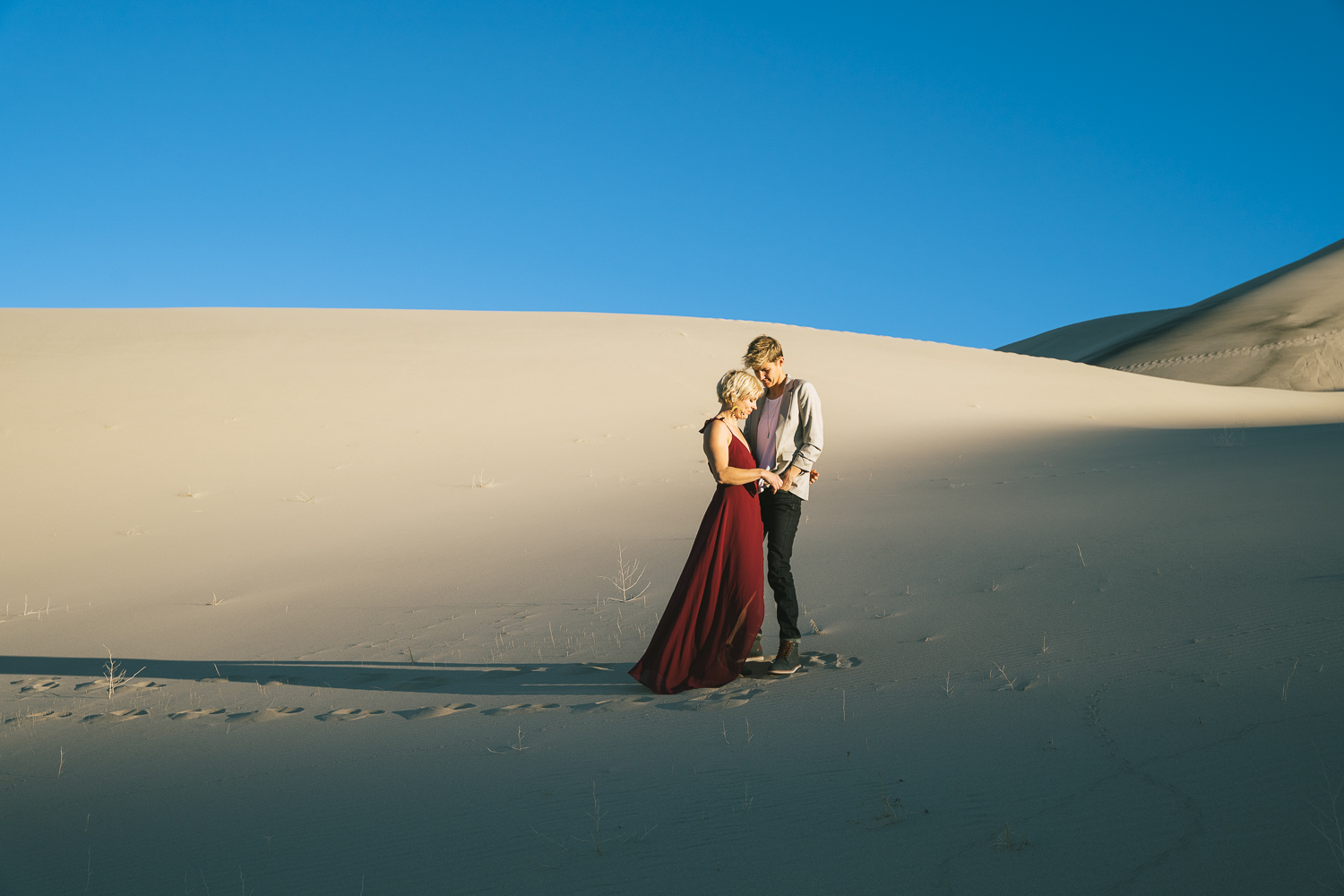 Desert sand dunes are one of the most stunning natural landscapes, and I'm obsessed with the dramatic light & shadow made possible by the curvilinear lines. The above photos were taken in the Eureka Sand dunes, on the edge of Death Valley. However, there are a few in the national park itself and the variety of backdrops in Death Valley is stunning.
---
4. Lake Sabrina
Best Season: The road is closed during the snowy months, so unless you want to snow shoe in (which could be magical!), you'll visit from June – October depending on the snow levels that year.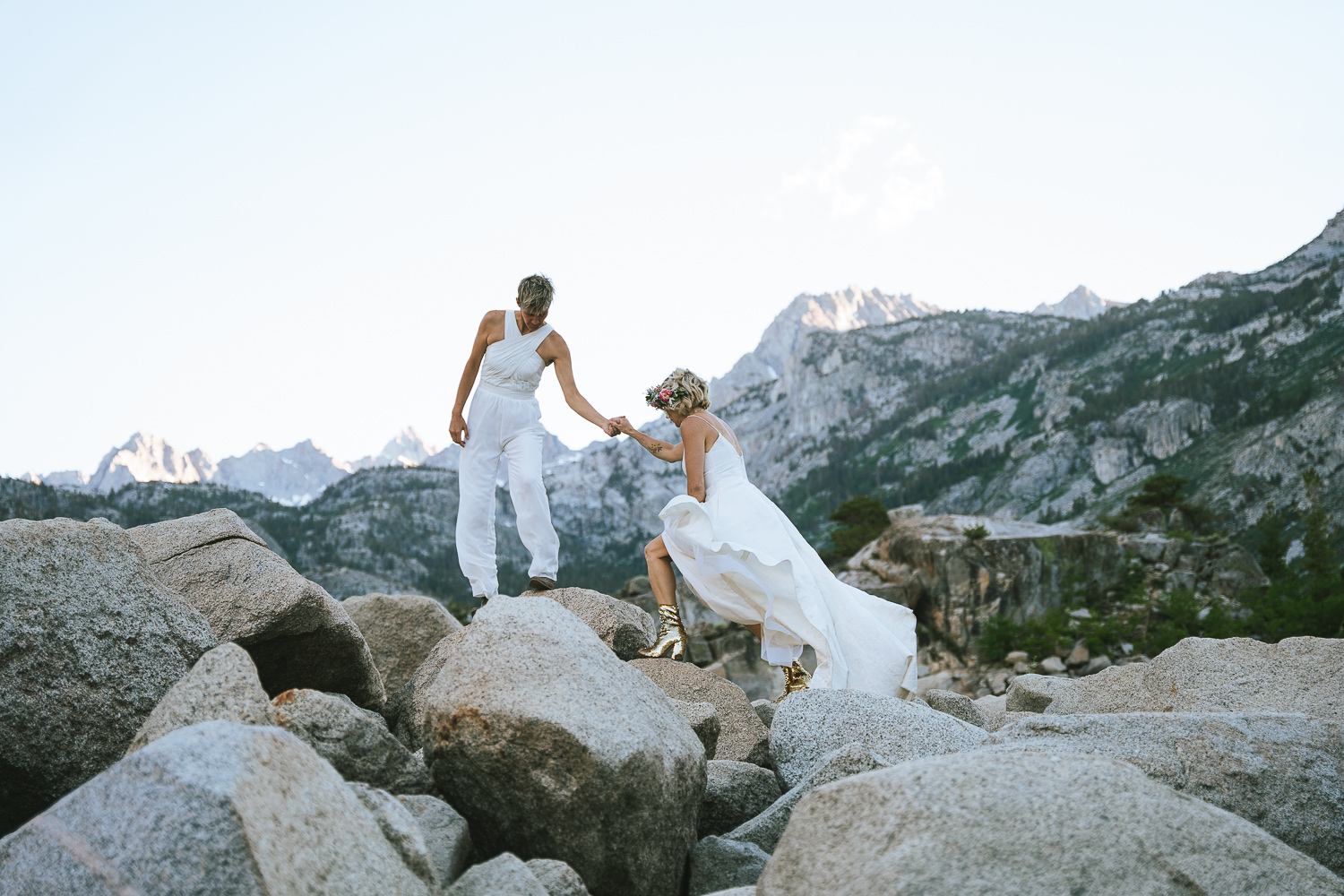 Lake Sabrina is an easy access alpine lake, surrounded by aspens. During summer months, there are great trailheads to explore, or this is also an easy access spot to end your day in an epic way.
Cardinal Village Resort is an AMAZING place to stay if you want to plan an all day elopement near Bishop. Resting at 8500 ft, it stays relatively cool all summer, and is a winter wonderland during the winter.
Read more about Cardinal Village here.
VIEW THE FULL WEDDING DAY HERE
5. Convict Lake
Best Season: Great all year long.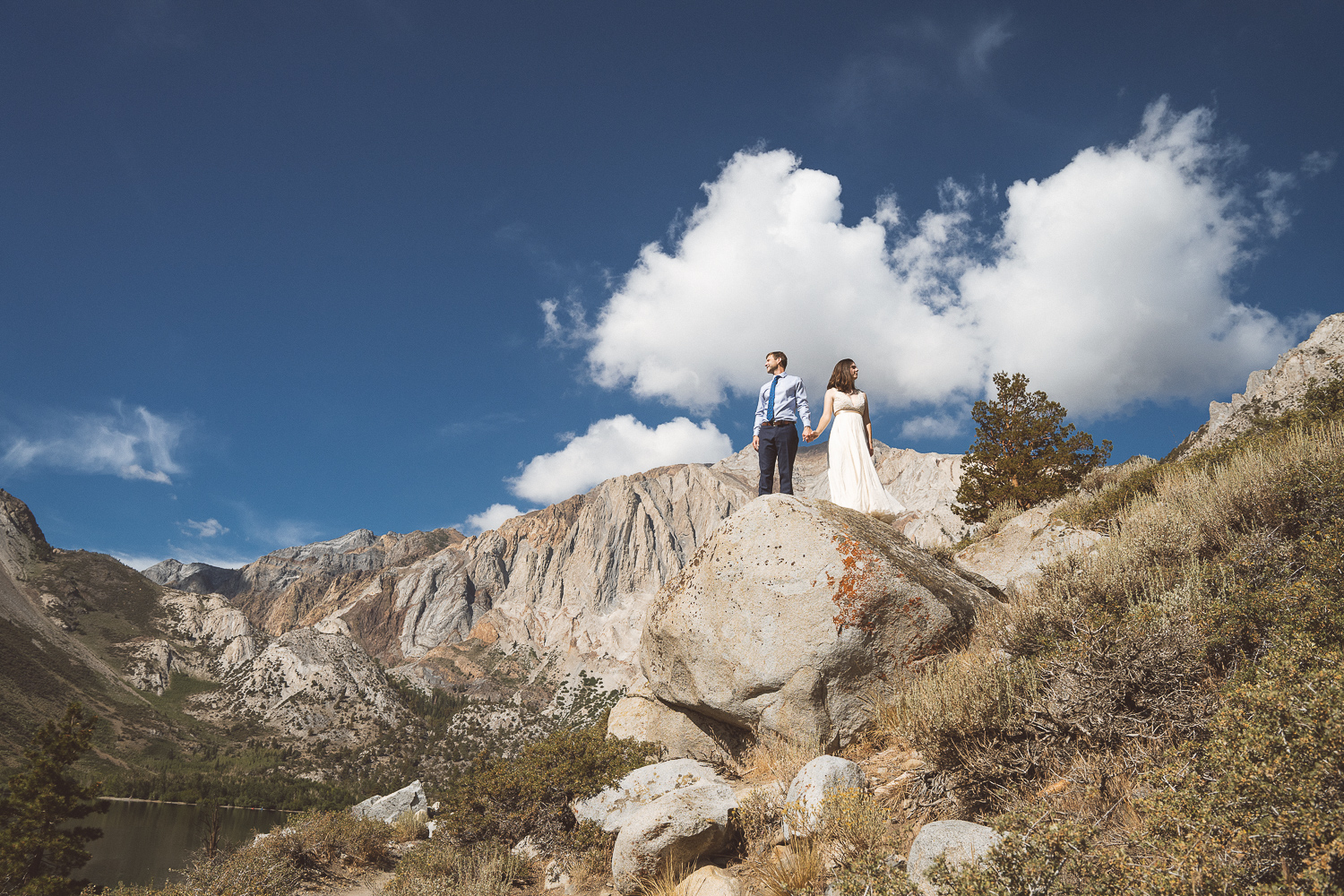 The road to convict lake is plowed all winter which makes it accessible year round! Keep in mind that the vibe and options change between seasons. During summer months, you could use Convict Lake as a trailhead to hike into the mountains; you could paddle board or swim, have a picnic on the shore. As we transition to autumn months, you might be surrounded by fall color (aspens!) and still squeeze a hike in. Winter season, admittedly more limited with the cold short days, is still one of my favorite places to shoot. If you're lucky (like, REALLY lucky), you can time it so that you ice skate during, or after your session.
VIEW THE FULL PHOTO SESSION HERE
---
6. Buttermilk Country
Best Season: Ideal in fall & spring, also good during winter but too hot during the summer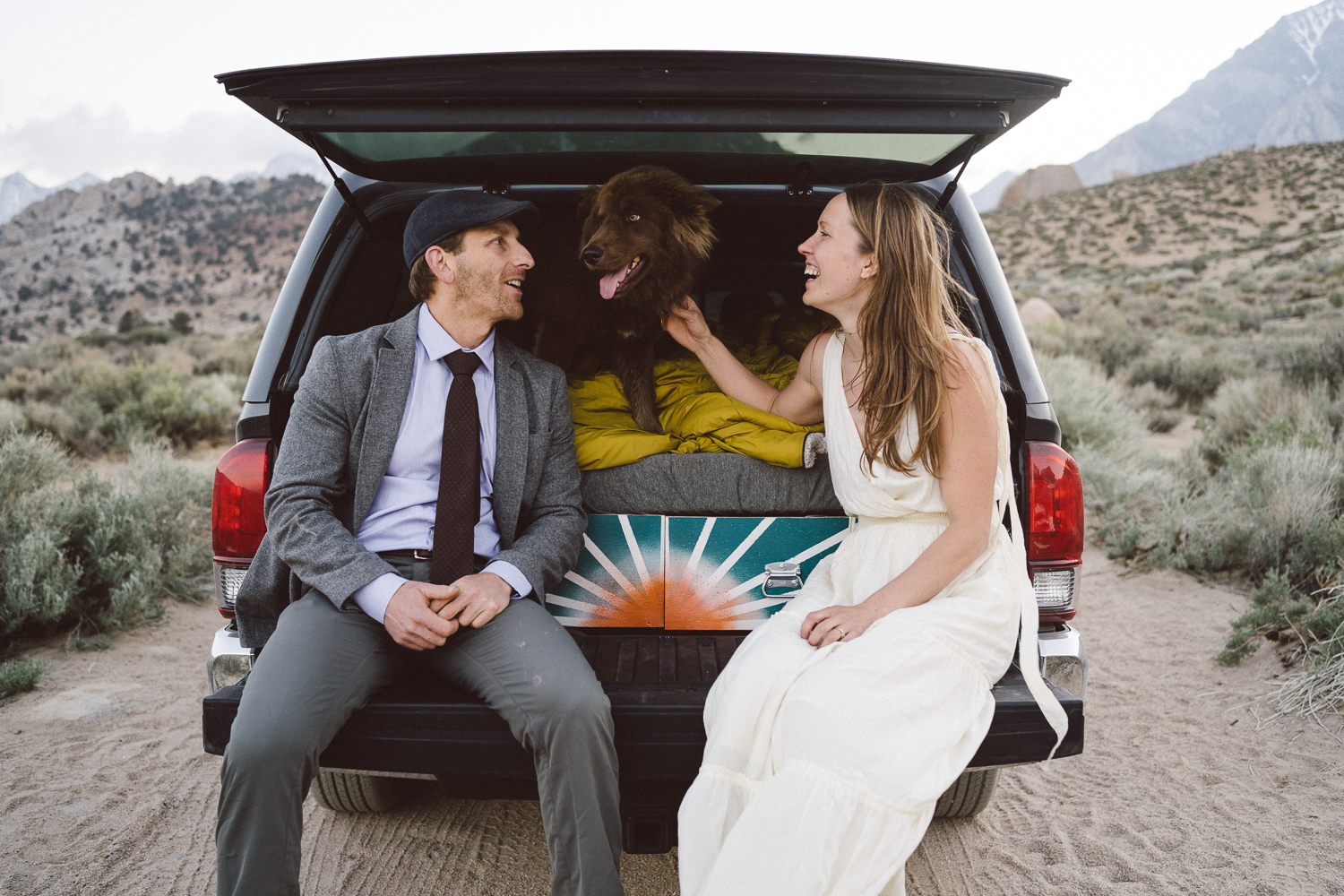 For the avid climbers, why not explore a beautiful climbing destination? We could do some candid climbing shots, but we would spend most of our time exploring the surrounding buttermilk area which is packed with beautiful granite features, a waterfall, and more. The view of the sierra range is stunning from here too.
---
If you'd like to keep reading, check out the related blog posts below.